A website should not just look pretty.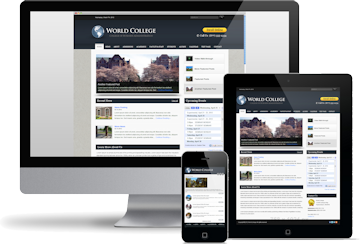 We design custom websites for businesses and non-profit organizations in Las Vegas. A professional and attractive web design is critical for businesses large to small. According to a recent study, 2.9 billion people will access the internet in 2014. Many businesses are looking to stabilize their revenue stream by getting online and tapping into the local (or global) market. By having a strong web presence, many business owners quickly realize that there is a greater opportunity to rise above their competition on a local and national scale. They also have the opportunity to establish a stronger brand image by delivering unique and enticing content to potential customers. We can design a website for you that is designed to rank well on search engines and increase the number of leads coming in the front door.
Our design process is simple.
Designing a website for your business is what we specialize in. We start each project with a free initial consultation. The consultation is our chance to learn as much about your project as possible before starting design on your website. This may include researching your industry, local competitors, demographics, target audience and more. We then start the design process by creating rough draft mockups for you to review and approve. Based on our current work load, this process can be completed in as little as 24-48 hours in most cases.
WordPress enables you to manage your website easily.
Once the web design mockup is reviewed and approved by you, we move in to the development phase. In the development phase, we allocate the necessary resources to begin programming work on your new website. This involves scheduling a programmer to work on your particular project. You will remain in contact with your project manager throughout the course of the entire project. The programmer will begin "cutting up" the mockup and splicing it together into standards compliant, valid HTML/CSS code. From here, we take the code and create the functioning website on the WordPress framework. This includes working with PHP, jQuery, JavaScript, Flash and MySQL in most cases. The final steps in programming include reviewing, testing and going live with your new website.
Testing, review and going live.
We test each website thoroughly on a private staging server. You will receive a private URL that links directly to your new website as it is being built. This means that your new website is accessible in a private, pre-live environment, but is still accessible from any computer with an Internet connection and access to the private URL.
Each website is thoroughly tested for accuracy, spelling, grammar, and more. We can even begin to implement basic SEO features during this process as well. However, some clients choose to wait until after the website is live to begin SEO work. Once the website has passed our extensive examination, it is ready to go live. We simply update the Domain Name Servers (DNS) records at your registrar and the site will go live within 24 hours. Note: We say it will take up to 24 hours to go live, but typical go live time is only about 10-15 minutes after updating the DNS records.